First-Hand Accounts Humanize Officers and Help to Tell Personal Histories
The Denver Police Museum houses many significant artifacts with rich histories essential to our mission of building a bridge between the community and the Denver Police Department through storytelling. Along with artifacts, our collection is also made up of a small but mighty collection of scrapbooks. Although the term scrapbook may invoke imagery of the local craft store and a mother creating a book to preserve the memories of their child's most prized moments; these scrapbooks are similar in the sense of preservation of memories and stories but tend to provide a toned down aesthetic with more depth. These scrapbooks have been donated to the Denver Police Museum by the families of officers in the hope that the personal history of their family members will be recorded and preserved for future generations. The Denver Police Museum currently has about fifteen to twenty scrapbooks ranging from the 1930s through the 1990s. These books were created and maintained by the officer or a family member and included everything from newspaper clippings, commendations, academy graduations, birth and death announcements. They provide a first – hand account of the past from a variety of perspectives. They also provide a visual of what the politics and societal climate was at that particular time in history. The stories highlighted in these scrapbooks bring to life what it was like for an officer during a specific era and their daily life and challenges they experienced on the job. There are stories of criminal activity, acts of compassion, life events, and the difficult times of being an officer through some of the pivotal and incredibly heartbreaking moments in Colorado history such as the shooting at Columbine High School in 1999. The Museum currently has a dedicated volunteer, retired Denver Police Officer Barbara Cisneros, who performs the laborious but intriguing task of reading through the scrapbooks extrapolating information and documenting everything for the collection records. At this time, Barbara has personally read through six scrapbooks. Many of the first – hand accounts humanize the officers and provide a reminder of simpler times and long – forgotten department policies; all of which excites our volunteers most about reading through these personal histories. Reading through these scrapbooks is a wonderful and fulfilling task for our volunteers and they look forward to every new scrapbook they open and read. The process of recording all information within a scrapbook consists of reading every article included in the book along with documenting names, dates, and places referenced throughout the articles. Providing a detailed description of each item included in the book is important to gather all pertinent information for our records. An object ID number is assigned in our PastPerfect software database to each scrapbook along with a brief description and reference to the detailed document created by our volunteer. Once the entire scrapbook has been read through and recorded it will then be placed in our collection storage area for safekeeping. The stories and history pulled from these scrapbooks are invaluable to the Museum. To accurately tell the story of the Denver Police Department we need to have documented first – hand accounts and experiences and these scrapbooks are the perfect catalyst for us to obtain this information. We are truly grateful to the families who have donated these wonderful scrapbooks to the Museum, and we are honored to be the caretakers of these very important artifacts.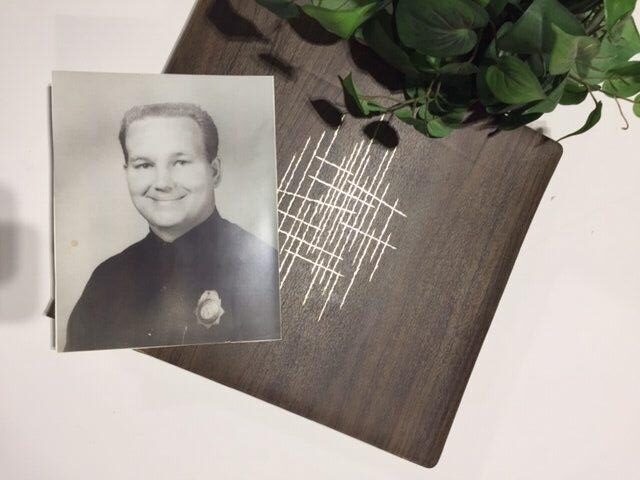 October 3, 2021 marks the 50th anniversary of Denver Police Officer Merle Nading's line – of – duty death (LODD).
This scrapbook of Officer Nading was donated to the Denver Police Museum by his widow, Pat Nading – Amman.
Denver Police Officer Merle Nading was killed in the line of duty on October 3, 1971 while attempting to quiet a disturbance in the parking lot of Clark's Diner at 2201 East Colfax Ave. That fateful night, Patrolman Nading observed a man and a woman quarreling and arrested the man on a disturbance charge. Off – duty officer Robert Wallis came to assist Nading. Nading gave him custody of the suspect and started walking around the back of his patrol car to inform the dispatcher of the growing crowd. A man in the crowd threw a punch at Nading, and when he started to arrest the man, a second man interfered and Nading grabbed him. While Nading was holding the second man in a headlock, the man reached around the officer's body, snatched his gun and fired once. Nading was shot in the back. When Wallis saw Nading fall, he let go of his suspect and went to Nading's aid. All of the suspects in the parking lot then fled. Nading was pronounced dead upon arrival at Denver General Hospital. "I have family and friends to thank who clipped newspaper articles, shared Denver Police Bulletins, and sent priceless letters to me during the most difficult time of my life — all of which were put into Merle's scrapbook. After 50 years as a mother and grandmother, the scrapbook has become increasingly more valuable. My grandchildren know their Grandpa Merle well as he is spoken of often and the scrapbook paged through. Thanks to Darrel Behrendsen, a copy of Merle's scrapbook is on the book shelf in the Denver Police Museum Intake Center among many other scrapbooks so that all of these officers can be remembered." ~ Pat Nading – Amman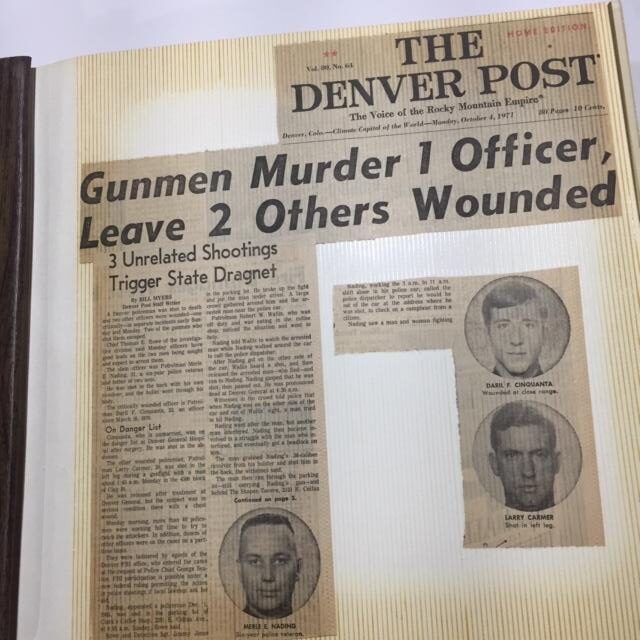 Denver Post Article detailing the shooting of Officer Merle Nading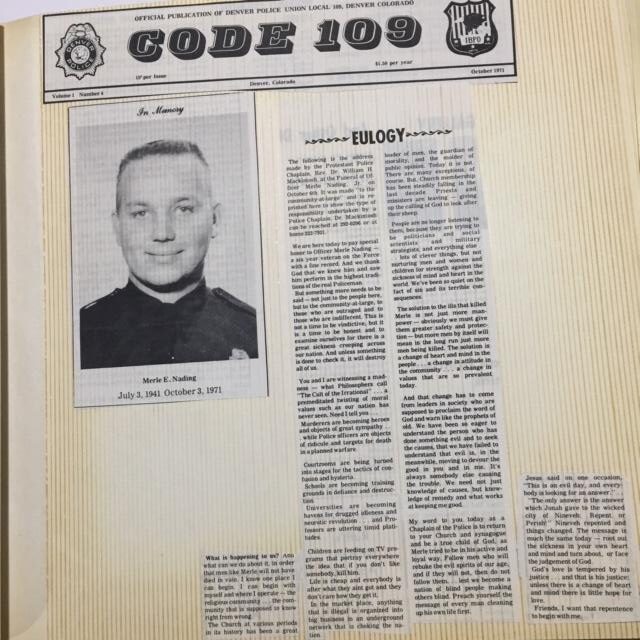 The Eulogy of Officer Merle Nading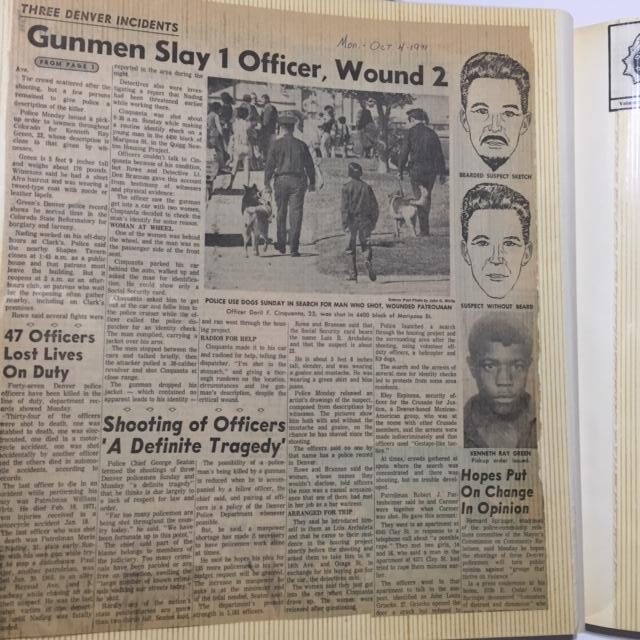 A newspaper article released the day after Officer Nading died