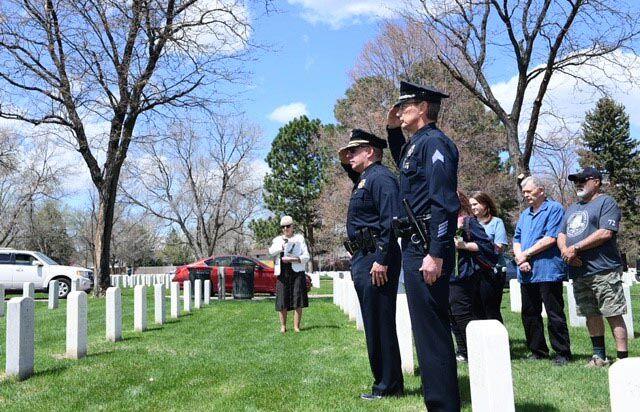 (Mark Samuelson Special to The Denver Gazette) On Feb. 18, 1921, Officer Willie O. Steam was nearing the end of his shift in Denver's Five Points neighborhood when he was shot from behind by an assailant involved in an illegal card game that police had broken up. Steam, 48, became Denver's first Black officer to be killed in the line of duty.
Ninety-three years later, the Denver Police Museum identified Steam's unmarked grave in the historic Riverside Cemetery along the Platte River north of the Elysia Swansea neighborhood, took donations from officers to inscribe a headstone bearing the department's badge, and carried out a dedication.
The museum, supported in part by voluntary paycheck earmarks by Denver police officers, is making its way through the names of 77 officers who have died while on duty over the city's 163-year history — commemorating their loss with dedications this coming week, National Police Week, beginning with a wreath laying Saturday.
"We got our inspiration from wreath laying ceremonies at Christmas in national cemeteries," said museum President Michael Hesse. The tradition began in 2019, and 70 volunteers now visit burial sites in five area cemeteries, bringing along fallen officers' family members and Denver area Boy Scouts.
"We see this as an opportunity to educate young people and to show the families that this is more than a name on a granite wall — that we really do care," said Hesse.
The museum, in temporary quarters at Denver Police Headquarters at West 13th Avenue and Cherokee Street, has a memorial where four more officers' names will be added next week — including that of Denver City Marshall James Richey, gunned down in 1862 while trying to arrest two men for disorderly conduct along Front Street facing the Platte River, in what was the town's earliest settlement, now parking lots under a freeway overpass.
Marking spots where officers died in the line of duty is another mission of the museum — one event the public can attend during Police Week. Twenty-five years ago, Officer Bruce VanderJagt was shot while pursuing a burglary suspect who turned on him with an automatic rifle. At 1 p.m. Wednesday, officers will meet at 3323 S. Monaco Parkway in southeast Denver to rededicate a marker.
In 1962, President John F. Kennedy proclaimed May 15 as Peace Officers Memorial Day and the week as Police Week. The Officer Down Memorial Page, based in Fairfax, Virginia, has recorded 25,767 line-of-duty deaths in the nation's history.
The Denver Police Department, Hesse said, has had no line-of-duty deaths since 2012, when Officer Celena Hollis became Denver's first Black female officer killed while on duty, after a shooting at a Jazz in the Park event at City Park.
The City and County Building will be bathed in blue light during Police Week. Hesse, who hopes to see the Police Museum in a permanent setting by 2024 as part of the National Western Stock Show Complex renewal, says officers are focused on making the museum a tool for community outreach, particularly to schools. The museum is open by appointment only. Call 720-913-6779 or visit DenverPoliceMuseum.org.