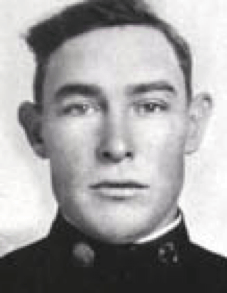 Patrolman Alson Edwin McCasland died on Thursday, May 28, 1935, at Denver General Hospital, from injuries sustained 41 days earlier when his police motorcycle was struck by a car at East 19thAvenue and Clarkson Street. He was the first Denver Police motorcycle officer to die in the line of duty.
McCasland's motorcycle collided with a car driven by 26-year-old Muriel Painter. His arm was fractured and he received a severe concussion. Painter was cited for reckless driving, but the disposition of her case is unknown.
McCasland was born on August 18, 1897, in Franktown, Colorado. Prior to becoming a police officer, he worked in the building trades, laying cement.
He was appointed to the police department on January 1, 1921, and issued star 260. He had been assigned to the traffic squad for 10 years.
He was survived by his wife, Rose, and son, Edwin, 13. The family lived at 1446 Stout St. He was buried at Crown Hill Cemetery in Wheat Ridge.
The Denver Police Department began using motorcycles in 1911. By 1921, there were 13 of them, each equipped with a sidecar. Three motorcycles were stationed at each of the four sub-stations, and one was kept at the city shops for use by the central station.
 In 1930, the mounted patrol was abolished and more motorcycles were added to the fleet. In 1933 the first three-wheel motorcycles were introduced.
Two Denver Police motorcycle officers since McCasland have been killed in the line of duty. Patrolman William Wirtz was driving a three-wheeler when he was in an accident at Lawrence Street and Speer Boulevard, on January 18, 1971. He died a month later. Patrolman Dennis Licata, was responding to an industrial accident on September 6, 2000, when he collided with a vehicle that had turned in front of him at the intersection of West 13thAvenue and Shoshone Street.  
 

© 2018 

Bill Finch. All rights reserved.
On September 7, 2019, the Denver Police Museum will honor this fallen officer with placement of a headstone.
The Museum relies on donations and contributions from officer salaries to cover the cost of headstones for McCasland and others who made the ultimate sacrifice, but were buried in unmarked graves.
A special thank you to Mile High Memorials and the Jeremy Bitner Foundation for their donation of a custom headstone for Officer McCasland.