Former Denver Police Chief David Michaud died Saturday, December 26, 2020 at the age of 80.
After more than 30 years with the Denver Police Department (DPD), Michaud retired in 1998 at the age of 69. He rose from patrol cop to Denver's police chief to parole-board chairman, after which he retired again in 2010.
In lieu of flowers, the family requests those who wish to express sympathy to consider making a donation to the Denver Police Museum in David Michaud's name.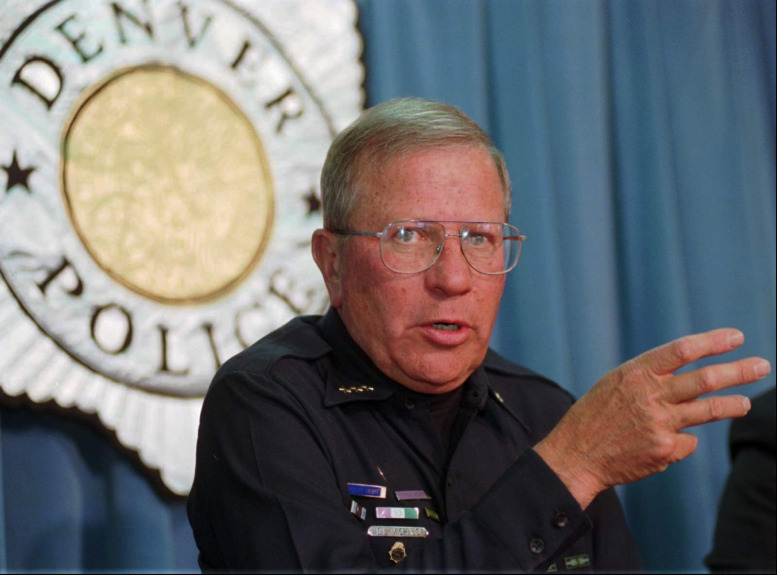 David Lloyd Michaud, Retired Denver Police Chief, appointed by Mayor Wellington Webb, passed away peacefully with his wife, Lois by his side on Saturday, December 26, 2020.
David joined the Denver Police Department in 1967 after proudly serving in the US Marine Corps. His service in the Marines instilled in him a set of values, honor, service and leadership that were part of him throughout his life. After his retirement, he also served as Chairman of the Colorado Parole Board when called upon by Governor Bill Ritter.
Due to COVID-19 restrictions, David's funeral was limited to five people. He was laid to rest December 31, 2020. His most heartfelt request was for his final resting place to be at Ft. Logan National Cemetery with the Marines. His service was attended by his wife Lois, daughter Denise, son Michael, grandson Jordan and at their request Denver Police Chief Paul Pazen representing the men and women of the Denver Police Department that David was proud to be part of for his entire career. Special thanks to the Traffic Operations Motorcycle Unit of the Denver Police Department for their escort upon entering the Denver city limits to the cemetery.
His wife wishes to extend a thank you to the citizens of Denver for supporting David throughout his career which allowed him to do what he loved to serve and protect them to the best of his ability with his fellow officers. 
The family wishes to extend its most sincere thanks to the men and women at the Roselawn Mortuary of Pueblo who assisted in making the funeral arrangements with Theresa Johnson at Ft Logan for their compassion, thoughtfulness, professionalism, kindness and care. Their help made the most difficult experience comfortable.
The Denver Police Museum plans to do a tribute in David's honor in the fall.
Anyone interested in making a donation in the memory of David please do so to the Denver Police Museum. This special page has been set up to facilitate the donation.
Semper Fi Marine
In lieu of flowers, the family requests those who wish to express sympathy to consider making a donation to the Denver Police Museum in David Michaud's name.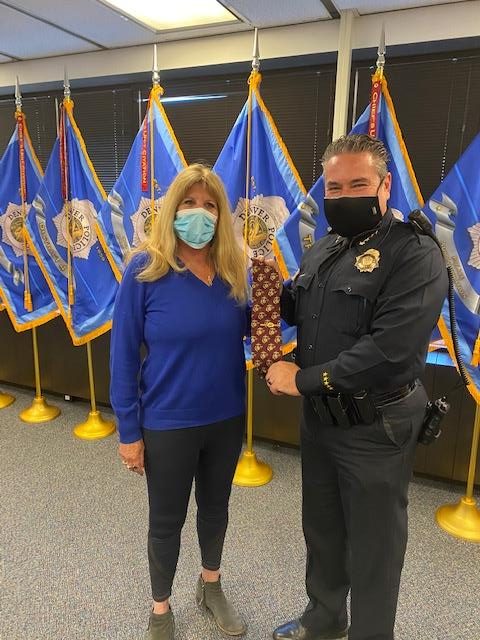 By ELISE SCHMELZER | eschmelzer@denverpost.com | The Denver Post
December 31, 2020 at 6:00 a.m.
Even though his rank rarely required him to respond to calls, former Denver police Chief David Michaud always wore his radio — just in case.
If he was nearby when a call came in, he would respond himself and sometimes provided back-up for his officers. He believed a police officer's foremost job was to protect the public regardless of an officer's rank, Denver police Chief Paul Pazen said.
"That's one of the aspects that made Michaud special," Pazen said. "He never lost sight of the fact that we're all police officers, it doesn't matter rank or assignment."
Michaud died Saturday at the age of 80. He spent the first 36 years of his career in Colorado criminal justice putting criminals in prison as a police officer and the last three years deciding whether they should be released as the head of Colorado's parole board. Mayor Micheal Hancock called Michaud "a great, dedicated public servant."
After serving in the U.S. Marine Corps, Michaud entered law enforcement in 1963 as a police officer in Fort Lupton. He joined the Denver Police Department in 1967 and rose to the highest rank in the department over a 31-year career that included assignments in homicide, internal affairs, traffic, the gang unit and property crimes.
For four years in the early 1970s, Michaud and Ari Zavaras worked as detectives together. Zavaras, who later became Michaud's predecessor as chief and the director of the state's Department of Corrections, said the two men cemented their 50-year friendship during their time as detectives.
Michaud was a dogged investigator who worked with deep compassion for everyone he met and even as chief was known to give his personal phone number to people who might need him, including gang members, Zavaras said. Michaud worked more than 600 homicides as a detective, according to The Denver Post archives.
"If I were involved in a life of crime, the one person I wouldn't want chasing me is him," Zavaras said.
When Zavaras stepped down as chief, Denver Mayor Wellington Webb appointed Michaud to take the position in 1992. Over the next six years, Michaud led the department through several high-profile events, including Pope John Paul II's visit to Denver, the Oklahoma City bombing trials and the Summit of Eight, when global leaders convened in the city.
Michaud retired from the department in 1998 but was appointed head of the Colorado Parole Board in 2007. For three years he reviewed prisoners' applications for release and during his tenure parole release rates went from 13% to about 20%, according to previous reporting by The Denver Post. Michaud retired from that position in 2010.