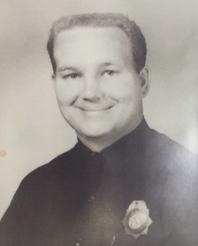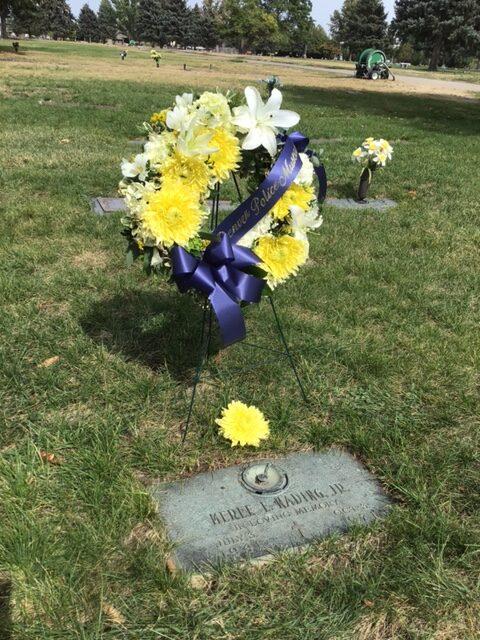 They called him Bambi, a nickname most police officers would not want to have. But to Merle Nading's fellow officers it wasn't a pejorative. It was their term of endearment for a cherished friend and colleague whose "gentle disposition and shy, perpetual smile," belied his tall, muscular physique. " … Bambi didn't like to hurt people," one of them explained, "so to avoid injury, he would wrestle a resisting prisoner into his car. It wasn't unusual to see him take abuse from upset citizens and then make excuses for their behavior. There wasn't anything he wouldn't do for a fellow human being."
A lifetime after those words were first written, Nading's youngest son Todd, now 58 years old, remembered his dad's ever-present sense of compassion. And not just to him, his brother Lance, their mother Pat and other members of their family; but to strangers, acquaintances and people he had known for years. It didn't matter who.
Todd recalled how his dad was more than happy to drive one of the day-laborers who worked for him in his concrete construction business to and from work each day because the man didn't have a car. And more than just that, he always made sure his men, some of whom were living payday-to-payday, had enough money to feed their families between times. Some of his fondest, most indelible memories of his dad are of the many times they would wrestle on the floor and playfully roughhouse. Indeed, many of the life lessons Todd and Lance learned about kindness and compassion came from watching and listening to their father.
It was with that same uncommon sense of decency, Merle Nading would find himself in the fight of his life on Sunday morning, October 3, 1971.
It was just before 4 a.m. when he parked his police car behind Clark's Diner at 2201 E. Colfax Ave. and started writing down on his log sheet the citation numbers of parking tickets he had issued earlier that night working off-duty there. At roll call an hour earlier, he had asked John Wyckoff and Brian Moran to meet him for coffee at Clark's. On their way there, both had been dispatched to calls, however, and were delayed. Nading saw another District 2 officer, Bob Wallis, off-duty and wearing plainclothes, inside eating and decided to join him. He radioed he would be out of service at the location.
Nading worked off-duty at Clark's on a regular basis. His shift ended in time for him to report for duty at the District 2 station at 3555 Colorado Blvd. , where, with only five years on the job, he was already one of the senior patrol officers on the 3 a.m. to 11 a.m. shift. The extra money from working at Clark's, combined with what he took in from his part-time concrete business, helped provide for his family over and above the $846 the city paid him each month.
Nading and other officers were employed by the Clark family to keep the peace at their restaurant and ticket cars illegally parked in their lot by patrons of The Shapes lounge across the street. The Shapes was a nightclub until 1:45 a.m., then reopened at 2 a.m. as an after-hours club. With a predominately black clientele, it had already been the scene of much racial tension between patrons and the police.
This night, like most other weekend nights, the parking lot across the street from the diner was full of people who had been drinking at the after-hours club. Two of them, Ida Faye Parks and Matthew Yarber, were having a heated argument. Yarber wanted her to leave with him and she refused to go. Parks picked up a stick and tried to hit him. He took it away from her. When Parks saw Nading get out of his car, she yelled for him to come over and help her.
Yarber threw down the stick and started walking away. He then changed his mind, turned around, walked up to Nading and took a swing at him. Nading grabbed him by the neck, told him he was under arrest for disturbing the peace, and started to walk him back to his police car, a distance of some 50 yards. As Yarber struggled to get away, he incited bystanders to help free him. A loud, angry mob formed and followed them across the street, taunting Nading.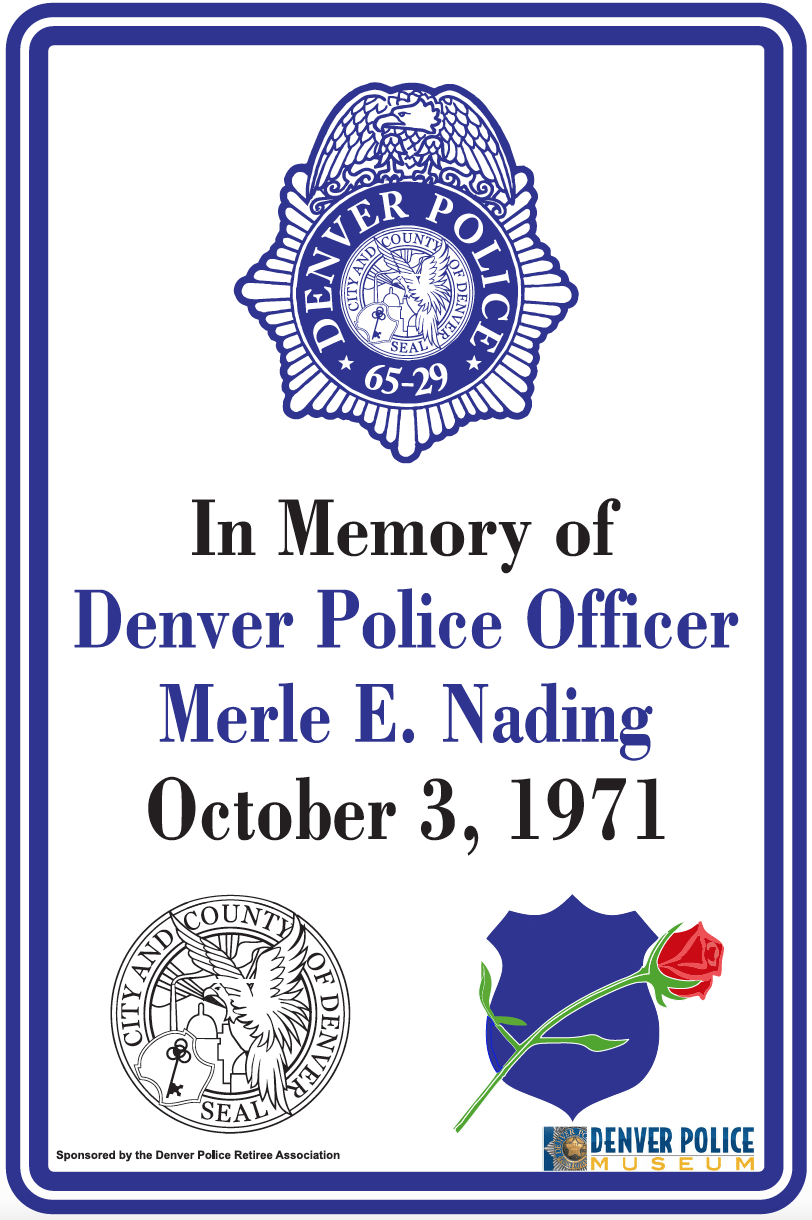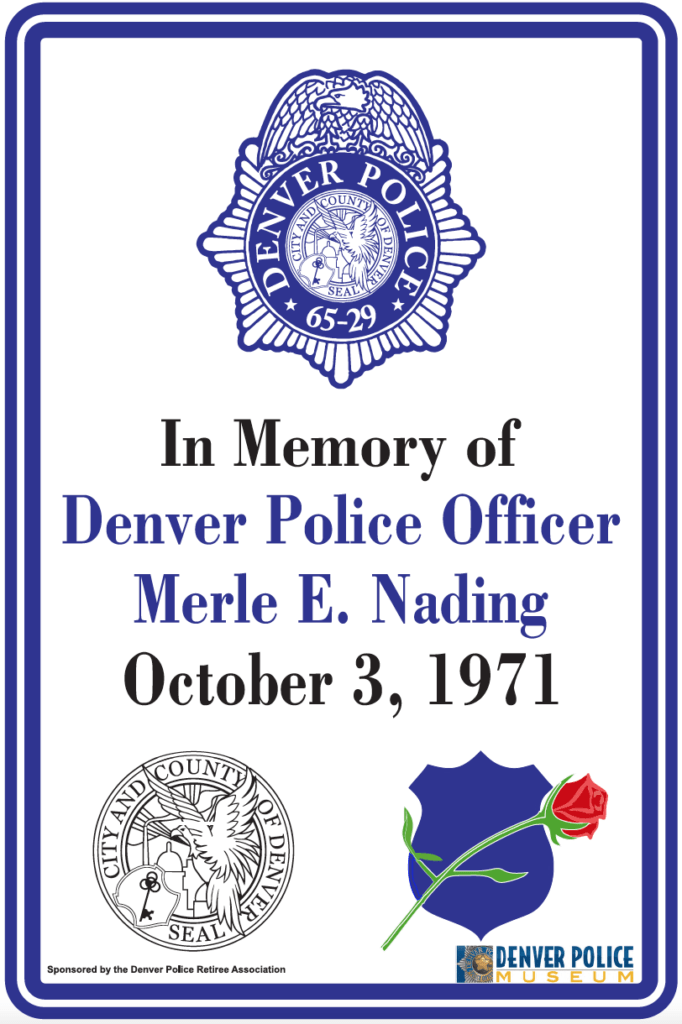 Memorial Sign located at: 2201 E. Colfax Ave
Nading managed to get back to the diner's east-facing doors. He stopped there to handcuff Yarber before taking him inside, away from the howling mob, but was prevented from doing so by interference from one or more persons. Wallis ran out to help. With the situation deteriorating rapidly, Nading knew he had to call for more officers before the mob overwhelmed them. After handing off the still-combative Yarber to Wallis, Nading started to push his way to his car, to get in it, start the ignition and call for help over the radio.
Before he could, however, someone in the crowd ran up to him and hit him hard on the side of his head, knocking him back against the wall, causing his hat to fall off. This emboldened the mob, and three other men jumped him. Nading fought off two of them and they ran away. He held onto to the third by placing him in a headlock.
It was this suspect who suddenly reached around Nading's waist and snatched his service revolver from the snapped cross-draw holster he was wearing on the front of his gunbelt, put the muzzle of the gun to the center of Nading's back and pulled the trigger. The wound was instantly devastating. And unsurvivable.
He gasped, "I'm hit!" and fell on the sidewalk between his car and the diner doors. Wallis let go of Yarber, took out a gun from his boot and went to Nading. "Who shot you, Merle?" Nading could say only that he had "run around that way" pointing northward. A pool of blood from his head injury started to form on the pavement.
Along with the shooter, still holding the gun, the mob ran off in all directions. Diner employees who knew and liked Nading came outside to try to help him. One of them, a teen-ager who washed dishes, bunched up his apron and put it under his head.
Diner manager Ernie Clark called the police. A cacophony of sirens filled the night air. Help, and plenty of it, would be there soon; but, sadly, not in time to have prevented the death of a good man who was a loving and much loved husband, father, son, brother, son-in-law, brother-in-law, friend and highly regarded police officer.
District 3 Officer Chris Erickson was patrolling on Colfax when the emergency broadcast was aired. He was among the first officers to arrive at the scene. He made sure the ambulance had an unobstructed pathway into the parking lot.
District 2 Officers Steve McCray, Don Roberts and Mike Pierson also got there within seconds of the broadcast. McCray and Roberts discovered the bullet laying on Nading's chest while unbuttoning his long-sleeve, blue uniform shirt. McCray considered Nading something of "a protector," the kind of bigger, stronger, more experienced officer that younger patrolmen like him were glad to have with them when the going got tough. The shooting that night was "a real wakeup call" to him that when you're a policeman, no matter how big and strong you are, there might still come a day when even those things are not enough to keep you alive.
Scores of officers from throughout the city converged on the scene. A Denver General Hospital ambulance sped into the parking lot and skidded to a stop. Attendants Brett Johnson and Ray Morris loaded Nading up and rushed him to the hospital.
He was pronounced dead at 4:30 a.m. by Dr. Douglas Yajko. An autopsy performed later that morning revealed the .38-caliber round had entered his back and lacerated his aorta before exiting his chest. He was only 30 years old. Wyckoff was assigned the sad task of guarding his friend's body in trauma room one.
At the scene, grim-faced officers and detectives went about sorting order out of chaos. Biting down hard, many they had to suppress their anger and fight back tears. Later, at home, they could cry and rage, but not here and not now.
The suspect's description – a black male, 5-8, 170, early 20s with an afro and wearing a tan jacket — was broadcast over and over again. A massive manhunt was begun. The crime scene and much of the area around it were cordoned off by yellow crime-scene tape and further protected from intrusion by officers posted around it. Potential witnesses were identified and isolated, then taken to police headquarters on Champa Street to be interviewed. The scene was documented photographically. Evidence was bagged and tagged. District 2 Lieutenant Charles Minor was in charge at the scene.
Doug White was Nading's close friend and was working that night in District 2. After the shooting, when he was told to report to Captain Doral Smith, the District 2 commander, at the station, he didn't understand why. Smith had stopped at the station because he wanted someone dependable who the family knew and trusted to go with him when he went to the Nading family home in unincorporated Adams County to break the news to them.
It had been only a few weeks since Pat had asked her husband if the district captain ever worked nights. He replied, no, never, except if something really good or something terribly bad has happened. Half-jokingly, he told her that if she ever sees Captain Smith standing at their door in the middle of the night, he was there to tell her only one thing, that he had been killed in the line of duty. And so it was, when she awoke to a pre-dawn knock at the door and went to answer it. She pleaded with Smith, "Just tell me he's still alive, that's he's not dead." He told her he could not say that.
She called her parents who lived nearby and they hurried over. She asked a trusted neighbor to come and watch sons Lance, 10, and Todd, 8, who were still asleep in their beds. White drove Pat and her parents to where her husband's parents lived at 13th and Franklin St. in Denver When she broke the news to her mother-in-law, Louise Nading cried out in anguish for her husband, "Daddy! They have killed our boy!" A little later, the six of them went to Denver General Hospital to see him.
Sometime later that morning, Pat and the four parents went back to her house. She had to tell her sons about their dad. The boys had been able to spend much of the previous day on Saturday with him. He took them with him to work on the new gym he was helping to build at the District 2 station, while Pat spent much of the day downtown, volunteering for the Denver Visitors and Convention Bureau.
Not long after returning home with the boys, Nading had to get ready to go to work. He had to go in early to work an off-duty shift at Clark's. Lance remembers his dad standing at the top of the basement stairs telling them he was leaving. "Bye, boys. Your mom will be home soon." At that moment, an inexplicable and unforgettable wave of profound sadness washed over Lance.
The next morning his mom walked into his room and sat down on the bed. She was smoking, even though she had given up the habit years earlier. She told him his dad had died at work. Todd was sleeping in the room next to Lance's in the basement. He remembered waking up to the sounds of crying and screaming coming from his brother's room. He got up to find out what the matter was and was stunned to see all four of his grandparents standing there, crying. Pat was sitting on Lance's bed, holding him tightly. Both of them were sobbing. She motioned for Todd to join them on the bed. Pat took a deep breath and steadied herself. Then as bravely as she could, she repeated the terrible news to Todd. Sitting on his brother's bed with his mother's and brother's arms wrapped tightly around him, he suddenly realized that the four of them was now only the three of them. Fifty years later, neither Todd nor Lance can speak of that morning without breaking down.
Lance was eventually able to find a small measure of solace in remembering that his dad had lived long enough to see him become a national judo champion at the age of 10. The memory of his father's joy on that occasion was something that not even the hateful act of a thug from east Denver could ever take away from him. It had been Merle who got him involved in judo in the first place. When Lance was only seven, he wanted to become a great competitive wrestler like his dad had been in high school. But back then, there were no programs offered to kids that young. He'd have to wait until he got to junior high. But his dad found the next best thing – a judo class for youngsters at the downtown YMCA. With his parents' support and encouragement, he developed into an excellent judoka.
Detectives got an early break in the case when witnesses told them that a short, nervous, black male wearing a tan coat had waited until after nearly all the police cars had left the area before going out on the street to flag down a passing motorist. In the 1500 block of Gaylord Street, a car driven by Larry Bolling stopped. With Bolling were Larry Williams, Charles Higgins and Jerome Brooks. The man in the tan coat asked for a ride, saying he had had too much to drink. He wanted to know if one of them would mind going over to Clark's parking lot and drive away his car, a tan, 1963 Oldsmobile. Brooks said he would and got out and the man gave him the keys. As they drove off, the man in the tan coat slumped down in the backseat and told Bolling he had just shot a policeman and needed to get out of the area fast. Bolling drove him to 37th and Jasmine in the Park Hill neighborhood. Brooks was stopped and detained as soon as entered Clark's lot and taken to police headquarters for questioning.
As a result, all four people in Bolling's car identified the man they had picked up as Kenneth Ray Green, 22, who lived at 2601 Eudora St. He closely matched the suspect description given by other witnesses. Green had served time in the state reformatory for burglary and larceny. A warrant for his arrest for murder was issued.
Initially, as many as 50 officers, including the entire Special Services Unit and every available detective were assigned, full-time, to the case. In the trying days ahead they would be supported by "hundreds" of off-duty officers who worked tirelessly around the clock tracking down witnesses and chasing leads. Additional investigative support was provided by the Federal Bureau of Investigation.
After a second DPD officer was shot that same morning in north Denver, another massive manhunt was started. A rookie District 1 officer named Daril Cinquanta was critically wounded at 9:30 a.m., after he saw a suspicious man get into a car occupied by two girls in the Quigg Newton public housing projects in the 4700 block of Mariposa St. When he contacted the man, a struggle ensued and he was shot by the suspect – a prison escapee from California — who then fled. The 23-year-old officer crawled back to his car to call for help.
Then, if that wasn't already enough, early the next morning, another District 1 officer, Larry Carmer , was shot, although he was not as badly wounded as Cinquanta. Carmer and his partner, Robert Partenheimer, were investigating a rape at 4371 Clay St., at 1:45 a.m., when the suspect shot Carmer in the leg through the door of his apartment. Partenheimer returned fire, wounding the suspect. Carmer was treated at DGH and released. In less than 24 hours' time, three Denver Police had been shot in separate actions and one of them had died.
As the search for Green in east Denver intensified, some officers were criticized for what was termed their racist views and the heavy-handed tactics they used to detain members of the black community and search their homes without warrants. Lieutenant Don Brannan of the Homicide Bureau spoke up in their defense:
"The guys aren't coming in with blood in their eyes. They just want to find the person. They just want to get the job done." In the same newspaper story, "a young patrolman who had been working more than 18 hours, pointed out, 'If it ever happened to me, I'd want the guys to find out who did it.'"
Many of them would take a break only long enough to attend Nading's funeral on the afternoon of Wednesday, October 6th, at the Westminster United Methodist Church at 3585 W. 76th Ave. It was the same church where 12 years earlier, high school sweethearts Patricia Kay Jacobson and Merle E. Nading, Jr. were married. A few years prior to that, Merle had been the first president of the church's Methodist Youth Fellowship. Both Pat and Merle had graduated from Westminster High School in 1959. Merle had been one of the best high school wrestlers in Colorado and a standout member of the varsity football team. He was offered a football scholarship to Columbia University in New York City but turned it down to marry Pat and start a family.
At the time it was believed to be the largest police officer funeral in Denver's history, with an estimated 2,500 people attending, including hundreds of law enforcement officers from across the state and beyond it. The Rev. Omer Timmons officiated and the Rev. William McIntosh, a police department chaplain, eulogized Nading. It took a full hour for mourners to file past the open coffin to pay their respects.
The honor guard consisted of Bill Koonce, James Leo, Larry Swanson, Wulf Kroekel, Al Nieto and Phillip Young. Pallbearers were Leonard Portugal, Dean Susuras, J.C. Tyus, John Seckman, Nick Susuras, Jr. and Doug White. Honorary pallbearers included D.L. Bolton, R.L. Nice, D.M. Remley, J.D. Vacca, R.J. Dunkley, H.D. Oaks, Daniel Sewald and A.W. Zavares.
A mile-long line of more than 100 cars, most of them police cars, slowly processed behind a black hearse to Crown Hill cemetery in Wheat Ridge where he was buried.
In addition to his wife and sons, Nading was survived by his parents, Mr. and Mrs. Merle Nading, Sr., two sisters, Mary Ann Smith of Nevada City, California, and Nancy Dworek of Wichita, Kansas; his parents-in-laws, Mr. and Mrs. Henry Jacobson of Westminster, as well as by a brother-in-law Bruce Jacobson of Westminster, sister-in-law Jeanne Jacobson of Denver, and sister-in-law Judy Gibson of Northglenn.
One of the lines of inquiry detectives were investigating had to do with the reported sighting of a car at the scene of Nading's murder that had been associated with three unknown males who had threatened to kill him a few weeks before. Another line of inquiry was to establish whether Nading and Green had known each other; and if so, in what circumstances. A review of Nading's log sheets, the offense and arrest reports he had written, contact cards he filled out and all the movers and parkers he had issued found no indication of any previous contact. His fellow officers were asked if they knew of any contact between the two of them and none was reported.
Investigators learned that Green had purchased a one-way ticket on Braniff Airlines to Dallas, Texas, using the name of Joe Woods. He ended up not using the ticket but did escape to Texas for a short time by other means. He may possibly have been concealed in the trunk of his brother Frank Green's car. On the day of the funeral, Robert Gibson, an employee of a Phillips 66 gas station in Springfield in the extreme southeastern corner of Colorado, noted the car, a 1964 Buick Electra 225, when it's driver, thought to have been Frank Green and a passenger, believed to have been his wife, stopped for gas before continuing southbound. Gibson alertly notified the local sheriff, who advised Denver detectives. Green had family living in Dallas, Waco and Wichita Falls, Texas.
On Friday Captain Smith, who had been negotiating Green's surrender with members of his family, came up with an idea involving the giving of reward money to a relative if Green was willing to surrender to Smith in Dallas. It was understood the money would be used for his defense. Later that afternoon, shortly before Smith and one of Green's family members – who, because he was on probation, was prohibited from leaving the state, but was recruited anyway by Denver District Attorney Jarvis Secombe to go with Smith – were scheduled to fly out of Stapleton Airport for Love Field in Dallas, Division Chief Art Dill quashed the plan citing numerous legal problems with it.
Two days later, one week after Nading's death, Green was arrested in the east Texas town of Henderson by Henderson Police Officer Dwight Morton and Sergeant James Hale. He was riding in a car with other people including Frank Green and his wife. FBI agents took him before a judge in Tyler, Texas, to be arraigned. Denver Police Sergeant James Jones and Detective Charles McCormick flew to Tyler. In order to lawfully take custody of Green, both men were deputized by the Smith County undersheriff. They took Green to Dallas, then returned with him to Denver.
On October 16th, Nading's service revolver, a Smith and Wesson combat masterpiece, was recovered after a resident of 1609 Gaylord St. called police to report she had found a gun in a bush in her yard. Its cylinder was loaded with five live rounds and one spent round. The location was just north of where Bolling had picked up Green.
Green's trial began in February 1972. District Attorney Secombe led the prosecution team. Green was defended by Chief Public Defender Rollie Rogers, who was assisted by. J.D. McFarlane. An all-white jury heard the case in Judge Donald Pacheco's district courtroom. On February 17th, they acquitted Green after deliberating for only 3 ½ hours. Jurors agreed with the defense that witness identifications of Green as the gunman were not credible. The prosecution was hindered by the unwillingness of some witnesses to testify, and by other witnesses who recanted on the stand. It was clear to anyone with eyes to see that some of them had been threatened. Two of Green's brothers were arrested for witness intimidation.
Nading's family, friends, fellow officers and many others in the city were devastated when they learned of the verdict. To Pat Nading, more than anyone else, the jury's decision was a punch to the gut. Many blamed the verdict on DA Secombe's poor prosecutorial skills and called for his removal from office. Some of them have not forgiven him yet.
Pat found herself in the unenviable position of having to be the family's only bread winner while raising her two young sons as a single parent. She and Merle had talked about how, with their kids 8 and 10 years old, she might be able to start working outside of the home. She liked the idea, but never anticipated it would so soon become a necessity brought on by tragedy.
While Merle was still alive, she had taken out an application to join the department as a police officer. He had supported the idea. She tested and finished high enough to get her name placed on the eligibility list of candidates. In the meantime, she went to work for the department in a civilian capacity, in the auto theft section at police headquarters. Several months later, Chief of Police Art Dill called her into his office to ask her if she was ready to "come on the job," as a probationary police officer in the academy. She told him she would first have to talk it over with her family. The boys were understandably apprehensive. Not only would her schedule change and always be in flux as a patrol officer, but she would face the same kinds of dangers her husband had. In the interest of the wellbeing of her boys, she told Dill it was best for her to stay working as a civilian in the department. It was a decision she never regretted.
Over the next 18 years she worked for the department in various assignments at police headquarters and at District 2, where she was the captain's administrative aide. After earning her bachelor's degree, she decided to transfer to Denver International Airport, where, as a senior analyst, she served as the staff assistant to the director of finance. Six years later, she retired from the city.
She found love again and married Larry Amman, a Denver Police lieutenant. They married after Todd and Lance were already well on their ways to living their adult lives.
While she worked for the city and later after she retired, Pat never tired of taking the opportunity to tell her heartfelt story about what had happened to her late husband to academy classes, rolls calls, survivor support groups, community organizations, church gatherings and others. She helped found the Denver Police Museum and served as vice president of its board of directors for many years. She was a passionate advocate for fallen-officer families and was responsible for organizing the first real local support group for them. Wherever and whenever she could, she worked hard to keep alive not only the memory of her late husband, but of all the other Denver Police officers who had made the supreme sacrifice.
Merle Nading would have been proud of his sons too. Lance became a restaurateur. At one time he owned four restaurants in the Denver area, including Pints Pub and Dozens, located near the Police Administration Building on Cherokee Street. In 1987 he bought the York Street Café and Bar. It was not until his mother stopped in for lunch one day that he learned his restaurant just happened to be located in the same block where Clark's Diner had once stood. After his mother left, he ran over to what was then a Salvation Army thrift store and walked all around it trying to imagine where Clark's had been and where exactly his father had fallen.
Sometime after that, a black man walked into the bar and asked for him by name. He told Lance he had just retired from the Denver Police Department and wanted to tell him something about his dad; something he needed to hear directly from a black member of the department. Yes, he said, there were racists on the job. For better or worse, a police department reflects the community it serves, and in the late 1960s and early 1970s, racial strife was endemic in Denver and every other American city. But Merle Nading was no racist cop. And because of that, said this man, he and other black officers on the department respected him in life and mourned his passing.
"If my Dad's death had any meaning at all," Lance said, "it was to show being a police officer is a noble cause."
Lance is also an award-winning home builder and successful land developer. He and his wife Wendy have two children, McKenna and Cole, both college students. McKenna is studying to become an attorney, while Cole is focused on computer science.
Todd chose a different kind of career path and became a pilot in the US Air Force. A veteran of the Gulf War and the Iraq War, he flew B1 bombers and was awarded the Air Medal for bravery after a particularly harrowing sortie over Baghdad. After 20 years of service he retired as a lieutenant colonel. He became a pilot and simulator instructor for Frontier Airlines. He is also an evaluator for the Federal Aviation Administration.
He and his wife Donna have three children, Megan, Tyler and Branden, and two small grandchildren. Megan is a dance instructor and teaches horseback riding to children. She and her husband have two kids. Tyler followed his father into the US Air Force and he too became a pilot. Branden just completed his first year of medical school.
Remembering the example his father had set, Todd never hesitated to show his own kids how much he loved them by hugging them and playfully wrestling with them. Not a single day has gone by in the past 50 years that Todd hasn't thought about his dad.
Bob Wallis became a special friend to the family. He kept Pat up to date about developments in Green's trial, when it seemed the DA's office could not be bothered. He drove her to court and back. Wallis made himself available to Pat and her sons if they ever needed someone to talk to or spend time with. He took Todd and Lance on their first skiing trip; from it, Todd developed a lifelong enjoyment of the sport.
Two weeks after her husband died, Pat Nading wanted to convey her heartfelt appreciation for the outpouring of support she and her family had received from people like Bob Wallis and the other men and women of the Denver Police Department. She wrote a letter for the department's official Daily Bulletin. It is reprinted, verbatim, here.
To the Police Officers of the Denver Police Department:
It is with deep appreciation I write this letter to you, the officers of the Denver Police Department. I find words inadequate to express my feelings at a time such as this; obviously, a time filled with much sorrow and of great loss but also one of pride that my husband was a member of your group. In a world where so few really understand the role of a police officer, it is comforting to know of the genuine love and respect they have for one another. I know this must be so since so much of both have been given to my family and to me since my husband's tragic death.

On behalf of my two sons, the entire family and myself, I thank you from the bottom of my heart for every kindness and consideration each of you have extended to us. Being a good police officer was important to my husband; your final tribute to him left no doubt.
I have been told many times in the past two weeks that 'time is a great healer.' Let us hope that our society will soon begin to heal its wounds, so my husband will not have given his life in vain.
Merle Nading had worked hard helping to build a gym in the basement of the then-new District 2 station on Colorado Boulevard. He donated his labor and concrete materials. After he died the gym remained unfinished, its future in doubt because of a lack of funding to finish the construction and buy equipment. Then Elvis Presley came along. After learning of Nading's death, Presley, who was friends with a number of Denver officers, wanted to express his sorrow for their loss and contributed $5,000 to the completion of the gym. At least three generations of police officers, so far, have used the gym at either the Colorado Boulevard location or on Holly Street. A bronze plaque recognizing Nading and Presley can be viewed on the gym wall at the Holly Street station.
NADING-PRESLEY MEMORIAL GYM
ON OCTOBER 3, 1971, DENVER POLICE OFICER MERLE NADING WAS SLAIN BY A GUNMAN AT COLFAX AVENUE AND GAYLORD STREET. OFICER NADING WAS WELL RESPECTED BY HIS FELLOW OFFICERS AND HIS PASSING WAS A BLOW FELT BY ALL. AT THE TIME OF HIS DEATH, OFFICER NADING HAD BEGUN WORK ON THIS GYM, AND AS A TRIBUTE TO HIM, HIS FELLOW OFICERS HAVE COMPLETED IT WITH THEIR OWN UNSELFISH WORK. THE THOUSANDS OF DOLLARS USED TO PURCHASE MATERIALS FOR THIS GYM WERE DONATED BY ELVIS PRRESLEY, WHO CONTRIUBTED THE MONEY TO THE DENVER POLICE DEPARTMENT FOR THIS PURPOSE. THE NADING-PRESLEY MEMORIAL GYM STANDS AS A MEMORIAL TO BOTH OF THESE FINE MEN AND ALL OTHERS WHO CONTRIUBTED TIME AND EFFORT TO ITS SUCCESSFUL COMPLETION.
1. The Denver Post Letters to the Editor, October 6, 1971, written by DPD Officer Art Hutchinson
2. Razed many years ago. In its place today are fast-foot restaurants.
3. Wyckoff was dispatched to a family fight at 30th and York. He hurt his hand when two of the persons involved resisted arrest. Once the scene was under control, he left in a police car to go to Denver General Hospital to have his hand looked at. While en route, an emergency broadcast was aired that an officer was down at Clark's. He went there instead.
4. In 1971 only sergeants and lieutenants carried portable radios. For a patrolman to communicate over the radio with the dispatcher or other officers he had to use the radio mounted inside his patrol car, after first turning on the ignition.
5. Occupied in 1970, the station replaced one at 2135 E. 17th Ave. It remained in use until 2004, when a new "super station" was built at 3921 Holly St. The site of the old station on Colorado Boulevard is today a Walgreens store.
6. Nading's badge number, 65029, would indicate he had started the police academy in 1965, as the 29th probationary patrolman hired that year. In fact, he was the 29th man hired that year, but he did not start his career until the next year as a member of recruit class 66-1. He had asked for a delay to allow him to finish a big concrete job.
7. Prior to joining the department, Nading ran his own successful flatwork concrete company. Once he became a police officer, he continued working as a concrete contractor, but on a part-time basis. He specialized in swimming pool construction. Two of them are still in use today, at a motel and at an apartment complex. He learned his trade from his father-in-law, Henry Jacobson. Officers John Wyckoff and John Seckman would sometimes work for him.
8. It too was torn down many years ago. An auto parts store is in its place today.
9. Nading had confided to his wife two weeks before he died concerns over his safety while working at Clark's. "I have got to get someone to work that parking lot with me. One of these nights, someone is going to have a gun." What she did not tell him was the disturbing dream she had had about the same time in which she saw him lying in a coffin. She thought the dream had more to do with a generalized fear of the dangers of police work than with specific worries about her husband's safety.
10. Yarber had been one of John Wyckoff's classmates at Cole Junior High School and Manual High School.
11. Witness statement of Sharon Eaton.
12. His handcuffs were found later that morning in the parking lot.
13. Witness statement of Thomas Carpenter.
14. Wallis was himself killed in the line of duty 17 years later. As an auto theft detective, he was intentionally struck on a street in northwest Denver when he tried to stop a speeding vehicle driven by a robbery suspect who was fleeing police.
15. On the Internet's Officer Down Memorial Page, an anonymous person – possibly Mark Eric Walters, who, according to case records, was an employee of Clark's who worked that night – posted this about Nading in 2008: "I remember you well and what happened inspired me to become a cop and after 26 years still on the job, I still think of that fateful day. I spoke with you often and brought you coffee as you worked your off-duty job at Clark's and sat in the end booth. I was watching as you got shot. I was the graveyard dishwasher at Clark's restaurant and one of the first to get to you when you were shot. I watched you fading out and talked to you. It was my apron you had under your head. I wish I could have ID'd the shooter but I was only 15 and too stupid to pay attention. I never speak of this to anyone, but I do remember your sacrifice yearly. It was a turning point in a young cocky punk's life."
16. The Clark family decided to sell the diner sometime after Nading's murder. They later opened another restaurant in Brighton.
17. East Colfax Avenue was the dividing line between District 2 and District 3.
18. Nading was not the only 30-year-old District 2 officer to die in the line of duty just off of Colfax Avenue. Patrick Pollock was shot and killed on Ulster Street, half a block north of Colfax, in 1986 by a robbery suspect. He had been on the job for six years. Don DeBruno, who had been a District 2 field training officer before becoming a detective in the homicide unit, was 30 years old and also had six years of experience when he was shot and killed in 1975 by a homicide suspect on Broadway, one block north of Colfax. In 1929, a 30-year-old foot patrolman named Clarence Alston was shot and killed by a carjacking suspect on Broadway, just south of Colfax. He had been a policeman for four years. A 28-year-old Special Policeman named Wendall Smith was shot and killed in 1896 on Josephine Street, just south of Colfax by a burglary suspect.
19. This was only Minor's third night in District 2, after he had been reassigned from headquarters where he had held a staff position in the chief's office.
20. Lance was the first alternate to the 1996 US Olympic judo team.
21. Forerunner to today's Metro SWAT Bureau.
22. Cinquanta recovered from his wound and went on to have a successful, if controversial, 20-year career as one of DPD's most well-known detectives. His assailant was captured, convicted of attempted murder and sentenced to prison. Not long after that, he escaped again and was on the loose for 49 years, living under an assumed name, until the ever-relentless Cinquanta, by that time a private investigator, tracked him down to New Mexico in 2020 and led local police to arrest him.
23. In 1975 Carmer and his partner Bill Burbach, along with Bob Wallis, captured the wounded gunman who had just shot and killed District 1 Officer Bill Smith in north Denver.
24. Rocky Mountain News Oct. 5, 1971.
25. While Pat and Merle were growing up, Pat's father worked as a concrete contractor. Merle's father was an auto mechanic, "who could fix anything."
26. In the mid-1980s, McFarlane served as Denver Manager of Safety, overseeing the police, fire and sheriff's departments. At that time, Pat Nading worked as a civilian in the police department's personnel bureau. One day she went up to the Manager of Safety's Office on an unrelated matter, and someone introduced her to McFarlane. It was a tense moment as she came face to face for the first time with one of the men most responsible for the acquittal of her husband's killer. Awkwardly, McFarlane told her, "I was never quite sure if Kenneth Ray Green was guilty or not." A Denver Sheriff's deputy was also present. Pat remembered the deputy telling her as she was leaving that as he was escorting Green out of the courtroom after his acquittal, Green smiled and said he had just gotten away with killing a cop. She and countless other police department employees were disheartened and suspicious when Mayor Pena appointed McFarlane.
27. Secombe was voted out of office and replaced by Dale Tooley.
Copyright by B. G. Finch 2021
Bill Finch is a retired Denver Police lieutenant and 31-year veteran of the department. While working on the Denver Police Museum's Fallen Officer Project, he began writing stories about the members of his department who had died in the line of duty.
Selected Sources
Denver Police Department homicide case 508639 file
DPD District Two, Detail One attendance records for October 1971
State of Colorado Certificate of Death 14157 of Merle E. Nading, Jr.
Interviews with Pat Nading-Amman, 2015, 2016, 2017 and 2021
Interview with Todd Nading, 2021
Interview with Lance Nading, 2021
Interview with Division Chief (retired) Doug White, 2021
Interview with Detective (retired) Chris Erickson, 2021
Interview with Officer (retired) Steve McCray, 2021
Interview with Detective (retired) John Wyckoff, 2021
The Denver Post
Rocky Mountain News
Code 109, an official publication of the Denver Police Protective Association
www.odmp.org